Zamil Steel aims to break vertical barriers in construction
Saturday, 11th April 2015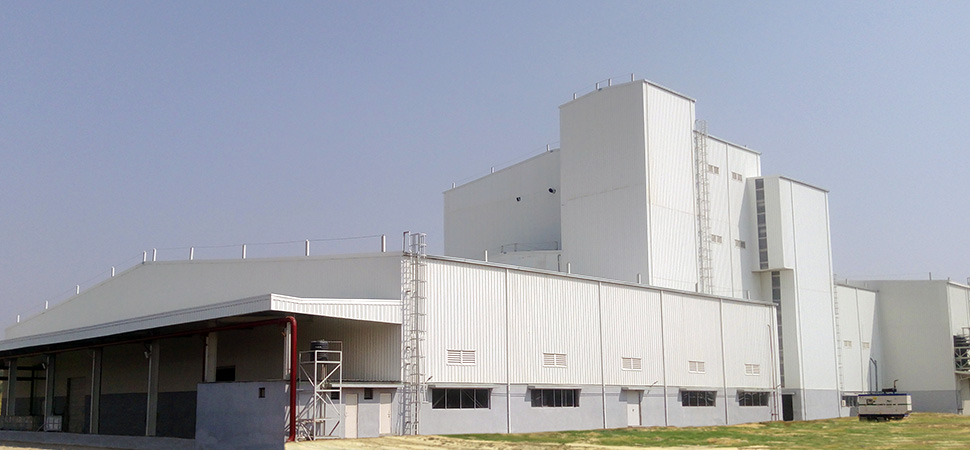 One of the key players in the PEB sector, Zamil Steel India has supplied to more than 830 projects, which includes 1,058 buildings with an approximate area of 4 million sq m. Alakesh Roy, Managing Director, Zamil Steel India spoke to Construction Opportunities about his company's strategies to meet evolving market requirements.
Tell us about your company's role in offering technologies and solutions in the PEB space? Give us your assessment of the business and the share occupied by Zamil Steel?
Zamil is known to be an innovator in the pre-engineered building (PEB) industry. The company has been closely associated with numerous infrastructure and construction projects since its inception in India. While traditional sectors like automobiles, warehousing and storage facilities used to be the key demand drivers for PEB construction, today opportunities are evolving in pharmaceuticals, drugs, foods and beverage industries. We are also aiming to bring about a change in the public mind-set to persuade them to opt for PEB as against traditional RCC structures, especially in the field of automobiles and allied sectors, farming and cold storage segments.
The segment as a whole is growing by more than 20 per cent year-on-year, however the market is most likely to remain flat now. Zamil today holds a market share of about 15 per cent in the PEB business. Apart from catering to new sectors through our product offerings, as a part of our strategy to enhance market potential, we are integrating the structural steel and allied businesses with our PEB activities. This strategy is expected to drive our growth in the sector. For instance, we are also supporting numerous refinery and petrochemical projects now.
Citing a few examples give us an understanding of the benefits of using PEB structures in meeting growing vertical momentum in construction projects?
One of the operational strategies adopted by Zamil Steel is to break the vertical barriers in PEB construction. With the increasing shortage in land availability and growing complexities in the acquisition processes, the need of the hour is to go vertical in the construction space. While PEB structures were earlier used only for G+3 and G+4 structures, today the technology is used for erecting buildings that are of 30-50 m heights. In addition, the increasing penetration and availability of construction design and management software has eased the planning and erection of PEB structures for increased heights.
However, a major concern being faced while executing such tall structures is the availability of advanced machineries and equipment across India. But we are optimistic about the situation improving soon, as today we see the deployment of 50 m cranes in infrastructure projects in India. We are presently executing two such projects for tall PEB structures in India. One is for CP India at Aurangabad and other is a 45 m aqua foot structure near Rajamundhry in the Vizag region. Zamil has earlier erected a 34 m building for Medrich Pharma on similar lines.
Briefly tell us about your other ongoing projects and demand driving regions across India?
We have been closely associated with numerous construction projects across the country. Few among our recent initiatives are for CP India, Mars Chocolates, Flash Electronics and an airport hangar project being executed by L&T. We even target all types of government and Public Sector Undertakings projects. Recently, we have started to work with the Power Grid Corporation of India for many of their projects.
Zamil has established a strong market presence in the western and southern regions in India. We see a strong growth potential in the central region of the country, especially in the Nagpur region of Maharashtra, Chhattisgarh and Madhya Pradesh. Though our presence has not been much stronger in the northern and eastern regions, we aim to strengthen it in the coming years. We have strengthened our team in the north and aim to grow by more than three times in that region.
Moreover, with GST implementation, tax and subsidy concerns to be soon addressed by the government, the market is expected to evolve. Apart from catering to Indian customers, Zamil Steel also has its eyes set aggressively on the export market. We recently assigned a new agency to strengthen our presence in Nepal and are already present in Sri Lanka. The company envisaged a 100 per cent growth in its business activities in Sri Lanka due to a proactive government. Apart from these, Zamil also targets to capture evolving opportunities from the eastern parts of Africa.
What is the company's approach towards R&D and environmental sustainability?
It can be said that, Zamil is the only company in India's PEB sector to have a dedicated project research and development wing. The company has a centralised R&D facility in Saudi Arabia. We often try to incorporate and introduce new ideas and technologies into the PEB industry through our product offerings. We also focus on updating our design software to meet evolving design requirements - presently Tekla applications are being used. The beauty of Zamil offerings is due to its ability in seamlessly blending global designs and global expertise in any project despite its location. We have also introduced in India specific product offerings. Our new wall profile and changed orientation of the MaxSEAM roofing system are a few of such initiatives.
Zamil understands the need to have sustainable structures and hence blends its global expertise to meet all the necessary quality norms and standards. Though the normal warranty assured for our structures is about 20 years, as per our experience, our structures have successfully proven to last for a lifetime. We might be the only company in the Indian PEB space to have achieved ISO9001:2008, ISO14001:2004 and OSHAS18001:2007 certifications. Moreover, we focus on minimizing the use of biodegradable materials in our structures.
Briefly tell us about your manufacturing unit? Also share with us the company's plan of action for 2015?
Our manufacturing plant is located at Pune. The unit started its commercial production in February 2008 and is spread over a total area of 87,000 sq m. The facility is capable of producing complete pre-engineered buildings and has a present capacity of 60,000 MTPA. The company utilises state-of-the-art engineering and manufacturing software and machinery in the design, estimating, shop detailing and manufacturing of each of its products. We expect to scale up production capacities by 80,000 MT MTPA this year. Last year, the company has achieved a growth of 37 per cent year-on-year. We are targeting to achieve 35 per cent growth this year.