Insulated Panels
Liner panels have one metal skin surface with polystyrene foam board adhered to it for better insulation. In the past 20 years, end-users, contractors and consultants have become increasingly aware of the losses associated with thermal transmission.
The outer and inner metal skins of Insulated Panels conform to the same specifications as the single skin painted panels described above. In addition, Insulated Panels have a factory injected polyurethane core. Thermal transmission data can be found in the Zamil Steel Technical Manual on Pre-Engineered Buildings.

Insulation of various types is now used in all types of buildings. Zamil Steel was one of the first companies to introduce polyurethane sandwich panels in the Middle-East. Polyurethane has been recognized as the most resistant material to heat transmission.
| Temparch Wall | Tempseam Roof |
| --- | --- |
| | |
| Tempcon Roof & Wall | |
| --- | --- |
| | |
All dimensions are in millimeters.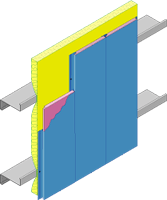 Zamil Steel Type Dx and Type Ex panels feature an outside flat surface with concealed fasteners providing a rich and smooth appearance for your external building walls and interior roof and wall liners.
The sides of adjacent panels form an interlocking tongue-and-groove system concealing the fasteners. This enhances the building's appearance and improves its security.

Quick and Easy Installation
The insulating board, laminated to the inside surface of the panel, increases its rigidity and makes handling of the panel much easier. One side of the panel is fixed to the interlocking groove of the adjacent panel, whereas the other side is fastened to the secondary system of the wall resulting in faster and easier installation.
All dimensions are in millimeters.
Salient features
Application

Excellent thermal insulating properties
Cost-efficient processing
Chemical and biological resistance
Light weight and durable
Fast and easy to install
Nice aesthetic features
High intensity and large rigidity
Non-water absorbent
Cold and heat resistance
Dimensional stability
Environment friendly

Factories
Commercial showrooms and offices
Warehouses
Distribution Centers
Aircraft Hangers and enclosed Sports Facilities
Restaurants and Schools
Airport Terminals
Museums and Theaters
Shopping Malls and Supermarkets/Hypermarkets
Interior wall Partitions