Products
Our pre-engineered building system is unmatched in its speed and value. Buildings, to suit specific needs, are designed, engineered, manufactured and shipped in less than 8 weeks and at a cost that is as low as 30 percent of the cost of conventional steel buildings (when compared to speed of occupancy and space usability).
Clear spans up to 93 meters wide and eave heights as high as 30 meters are possible.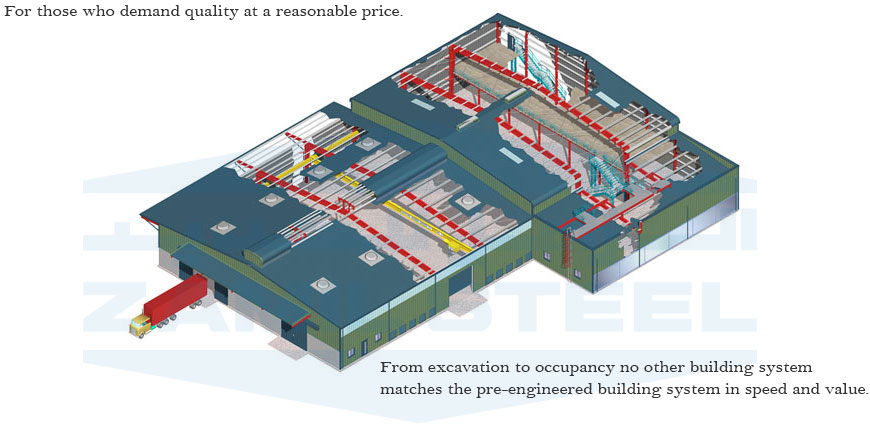 From planning to occupancy, nothing matches Zamil Steel's Pre-Engineered Building System in terms of versatility, flexibility and total value-engineering. The pre-engineered building system is, without doubt, one of the fastest growing building systems in the world. The advantages that it offers appeal to all parties involved in the project. After all, who can resist a building system that offers speed, quality and value.
Applications of pre-engineered buildings are numerous. Described in few words, pre-engineered buildings are ideal for any non-residential low-rise building.
Our pre-engineered steel building consist of the following:
Primary framing (The main frames)
Secondary framing (Z and C sections)
Roof and wall panels, single skin and insulated sandwich panels)
Structural subsystems (canopies, fascias, partitions, etc.)
Floor systems (mezzanines, catwalks, platforms, etc.) and
Other building accessories (sliding doors, roll up doors, windows, louvers, etc.)