Quality Policy
Zamil Steel Buildings India Pvt. Ltd. is committed to provide product and services at the highest quality standards that meet or exceed customer requirements and in accordance with the applicable national and international standards.
Also, we are committed to maintaining the health and safety management as an integral part of its business function and we produce good quality structure in an environmentally friendly approach.
Identifying customer needs, expectations and ensuring their satisfaction by meeting customer requirements.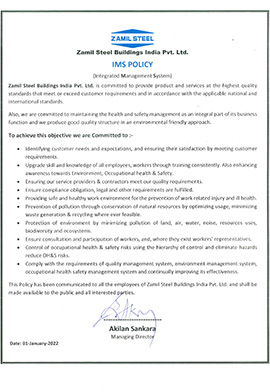 To achieve this objective, we are committed to:
Upgrade skill and knowledge of all employees, workers through training consistently. Also enhancing awareness towards Environment, Occupational health & Safety.
Ensuring our service providers & contractors meet our quality requirements.
Ensure compliance obligation, legal and other requirements are fulfilled.
Providing safe and healthy work environment for the prevention of work-related injury and ill health.
Prevention of pollution through conservation of natural resources by optimizing usage, minimizing waste generation & recycling where ever feasible.
Protection of environment by minimizing pollution of land, air, water, noise, resources uses, biodiversity and ecosystems.
Ensure consultation and participation of workers, and, where they exist workers' representatives.
Control of occupational health & safety risks using the hierarchy of control and eliminate hazards reduce OH&S risks.
Comply with the requirements of quality management system, environment management system, occupational health safety management system and continually improving its effectiveness.
This policy has been communicated to all the employees of Zamil Steel Buildings India Pvt. Ltd. and shall be made available to the public and all interested parties.