Zamil powering green initiatives
Monday, 12th July 2021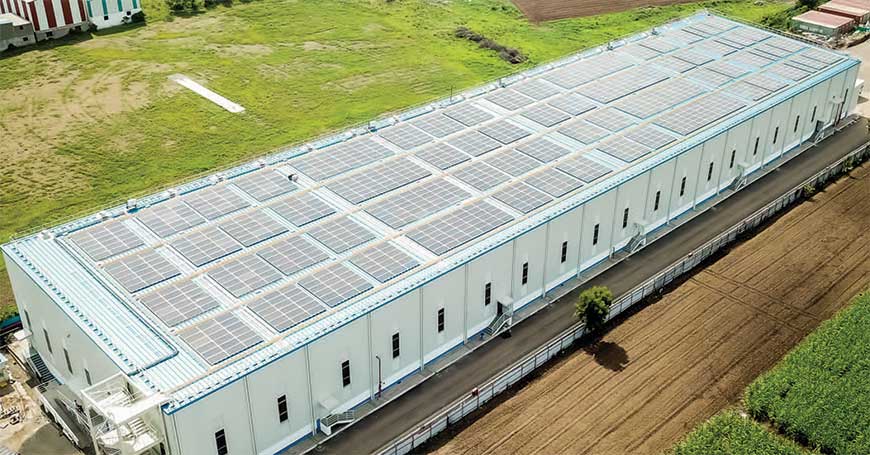 The World should move away from power generation from fossil fuel and move towards Solar & other renewable energies. Else all initiative towards making EV's and other industrial and domestic appliances which shall heavily rely on power shall fall flat. The World should holistically move towards a net carbon neutrality for eternal sustainability.
Zamil Steel stands as one of the largest Global steel structural/pre-engineered steel building suppliers. Zamil's strong global network of Manufacturing and Sales & distribution enables it to sell & deliver projects at any Global destination. The Indian arm of the global manufacturing network of Pre-Engineered Steel Buildings and Steel Structure total-solution-provider has 12 production units spread across Middle East, Africa & South East Asia.
Zamil Steel has been exceptionally dynamic in the field of green initiatives for a long time, fabricating and constructing green pre-engineered steel buildings to meet the customers evolving requirements. In recent years, the thought of green initiative has gained momentum in the emergence of green projects, be it in High-Rise construction, Commercial Complexes and Industrial buildings. With the introduction of new avenues and innovative technologies, this trend is set to continue.
A building structure is considered Green if the design and construction material utilized altogether decreases or eliminates the negative effect of buildings on the environment. Pre-engineered construction is preferably a green product and has a relatively smaller impact on the environment than conventional methods and practices. It is indeed an environment-friendly and energy-efficient construction technology.
One of the sustainable features of steel is that it allows for longer span sections, and therefore, reduces material usage. To maintain and reach sustainability, Zamil Steel has taken many green initiatives, reformed various methods and procedures within the organization, using recycled materials to minimize environmental impact, encouraging healthy workplaces, adopt all the latest international design codes to deliver green certified projects and reducing energy consumption.
Zamil Steel is also in support of Government initiatives for using recycled steel for the Construction of Infra projects; as long as it meets the standards required for specific grades of steel. Similarly, Zamil Steel India is also evaluating various alternative materials for steel which is intensive.
In addition, Zamil Steel in India has installed a roof-top solar power plant in its state of art manufacturing facility at Ranjangaon, Pune. The annual power generation capacity of this solar plant is 1 megawatt which results in annual energy saving and reduction of 30750 tons of CO2 emission. This initiative supports the country's 'National Solar Mission' to have 100 GW of solar power installed by 2022.
This clean, inexhaustible and environment friendly Solar photovoltaic system empowers the company to implement Net Metering policy in which it offsets some electricity to grid and the other way round. This solar power plant produces ⅓ rd of the power consumption required by Zamil Steel facilities in Pune and represents one of the first pre-engineered buildings (PEB) manufacturing facility of its kind in India. Customers are invited to see and experience how the system is integrated into our building for their future PEB buildings.
Rooftop solar power plants are most suitable for PEB roofs. Zamil Steel's PEB building's rooftop is designed to be most suitable for Solar PV Installation, Zamil encourages its customers to incorporate rooftop solar power into their respective projects and to support this green initiative many of its customers have implemented and have to cover their project rooftop with the solar power plant.
Zamil also executed, a wastewater treatment process at its state of art manufacturing facility, that eliminates liquid wastes and maximizes water usage efficiency in which water is recycled and reused for industrial purpose. Besides that, Zamil's Green initiatives within its manufacturing facility premises has enabled it to upgrade from RED to ORANGE Category which is a first amongst the industry. The company recently received the certification for Integrated Management Systems ( IMS ) for the ISO standards (QMS (ISO 9001:2015), EMS (ISO 14001:2015), and OH&S (ISO 45001:2018) by Bureau Veritas India (BVIS) which is rapid transformation from OHSAS 18001 to ISO 45001.