Engineered to succeed
Wednesday, 13th May 2015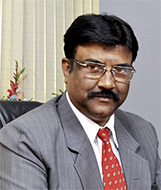 Historically, use of PEB in buildings is not more than 10%. Even if it goes up by another 5%, it means a 50% growth for us.
Zamil Steel Buildings India Ltd's state-of-the-art plant has broken several records in terms of manufacturing PEB structures.
India's manufacturing industry could touch $1 trillion by 2025, according to a report brought out by McKinsey & Company. A good reason for this is due to a larger number of Indian and MNC players establishing plants that are faster to construct so that manufacturing can begin. What is known to few is that most of these plants are pre-engineered buildings or PEB as they are popularly known.
"Historically, and even today, the consumption of PEB in terms of total construction for buildings is not more than 10%. Even if it goes up by another 5%, it means a 50% growth for us," says Alakesh Roy, MD, Zamil Steel Buildings India.
Zamil Steel has successfully executed several large industrial projects such as power plants, steel mills, cement plants, commercial malls and multilevel car parking systems - integrating all obvious design challenges. Construction Week India paid a visit to the Zamil Steel plant at Shirur (MIDC Ranjangaon) in Pune to understand how the company places emphasis on delivery of high quality products to its customers.
Sanjit Datta, general manager, operations, Zamil Steel Buildings India, says, "The uniqueness of Zamil Steel is that everything functions under centralised engineering. The products are the same globally. We have an advantage in terms of research and development as it is overseen by our head office in Saudi Arabia. The same goes for our production standards. For raw materials, we follow the guidelines laid by the American Society of Testing and Materials (ASTM)."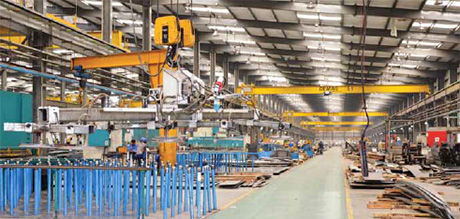 Cleanliness and neatness play an important role in the factory.
Zamil Steel attributes its superior quality to the raw materials that are already defined and unique to each country. Considering that the company strongly believes in maintaining low inventory, this seems to have worked out well for them. Currently, the Pune plant has an annual capacity of 60,000 metric tonnes. At its facility, most of the machineries and equipment are imported.
At any given point in time, the company has on hand about 40-60 projects. Besides, in keeping with current trends, Zamil Steel Buildings India is also on an expansion mode.
"In terms of production, we ensure that every component is marked so that it is easier to assemble them when putting together a unit. We have also introduced bar coding system. That is more of an upgradation of the entire system. Here the only disadvantage is that not all the sites have a reader facility, as most of them are based out of remote locations. We are the only company in India to provide a site office for our customers," says Roy. He then cites an analogy with a pizza brand wherein when one orders a pizza, the customer can track the order online right from its making to delivery. "However, the sheer volume of information one has to track is humongous," he says with a sigh.
Pre-engineered steel buildings use a combination of built-up sections, hot rolled sections and cold formed elements which provide the basic steel frame work with a choice of single skin sheeting with added insulation or insulated sandwich panels for roofing and wall cladding. The concept is designed to provide a complete building envelope system which is air tight, energy efficient, optimum in weight and cost and, above all, designed to fit user requirement like a well fitted glove. PEB can be fitted with different structural accessories including mezzanine floors, canopies, fascias, interior partitions, crane systems, etc. The building is made water-tight by use of special mastic beads, filler strips and trims. This is a very versatile building system and can be finished internally to serve any required function and accessorised externally to achieve attractive and distinctive architectural styles.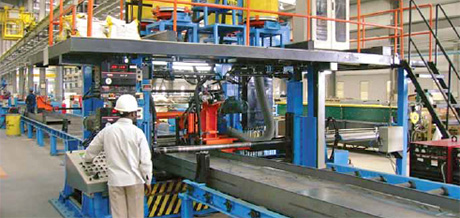 Accuracy plays a critical role in PEB manufacturing.
While most PEBs are constructed for industrial and warehousing purposes, there is often a wish that this could stretch to residential too. "Developers are fraught with anxiety when it comes to constructing residences in PEB. I think their main concern is using steel across the main frame of the building, although they use steel as rebars. However, this is not the case when it comes to constructing malls (and now even hotels) made of PEB," says Roy. Zamil Steel is pushing forward the idea to developers on how PEB drastically reduces the time frame of construction and allows them to see faster return on investment too.
In order to showcase its technology to the world, Zamil Steel Buildings India has constantly worked at sprucing up its plant. After its recent foray into structural steel, the company placed orders for a plate processing machine which is expected sometime in June. "The machine is for plasma cutting mechanism and drilling also. Structural steel requires huge quantities of plates, big and small. For the plate processing machine, the sheets are fed in certain dimensions - 2m width and 9m / 12m length. It is difficult to execute this through a conventional method," says Datta. In another move, it will soon buy integrated beam cutting and drilling line system from a world leading German manufacturer, to empower fabricators looking for a machine with lower scrap and greater versatility. It is capable of punching holes up to 45mm in diameter, and maintaining up to three available punch stations.
Beam cutting is a separate machine. "Those are I-Section. Our machines can handle any size of I-Sections as they are hot rolled. Earlier in PEB, fabricators would cut the plates and join them with automatic welding to form the I-Section. The basic difference is I-Section material requirement is more in hot rolled products then in built-up products. Here the thicknesses are specifically designed to suit the requirement of the particular load bearing part. It makes the process error free," says Datta.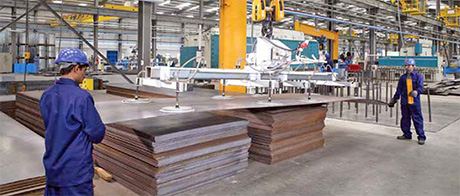 The company owns two plate shearing machine which are used for cutting the thinner plates. A plate with more than a thickness of 15mm will be cut through oxy fuel cutting. The drawing is fed into the machine and it cuts any profile and in any shape. The two Auto weld beam welding lines merely requires one to fit the H-beam to form a separate beam.
A critical process in PEB is welding as they provide stiffer, stronger structures with reduced building weight. Increased steel yield strength requires new innovative welding methods, because high strength steels pose more difficulty to weld without affecting adversely the ductility and performance of the structural system. Zamil Steel's engineers have chalked out a map for welding standards for certain types of joints. The elimination of any fumes, smoke or any visible arc column gives an ease of operation and efficiency; better quality and encourages its application in welding industry. The company also adheres to rules laid down by the American Welding Society for tests recommended in welding such as Die Penetrate test, Ultrasonic test and X-Ray method. As thickness of the plates goes higher, the more difficult it is to join the joints. It is also prone to generating defects if welding standards go awry. Radiographic Test is another requirement, wherein the company prefers to call in a specialist to carry this out. Then there is the surface preparation and painting. With a certain amount of pride, Datta speak of how the company employs an automatic conveyor system giving inputs to shot blasting machine to blasts the surface of the steel using steel shots and painting using an airless spray.
One of the tendencies of steel is corrosion when exposed to the environment, thus leading to deterioration, increased maintenance costs, and increased reconstruction costs. Although galvanisation, paint, and coatings may provide protection against corrosion, they increase the overall fabrication costs of the steel structure appreciably. This is more pronounced in hot and humid regions and industrially polluted environments. Therefore, engineers have to continually seek economically viable solutions to aim at reducing these costs.
In terms of innovations, Roy says, "India has immense amount of rainfall. The Central Building Research Institute (CBRI) code is mainly confined to average rainfall. What creates problems is peak rainfall. If you see our roof designs, we offer high depth roofs so that the water can flow out. The gutter design has been changed to cater to excessive collection of water. We have a zero leakage roof called MaxSeam. Instead of a screw done profile, it's a seam profile. We are also in talks with paints supplier for sourcing paint which is a primer and top coat, which is epoxy."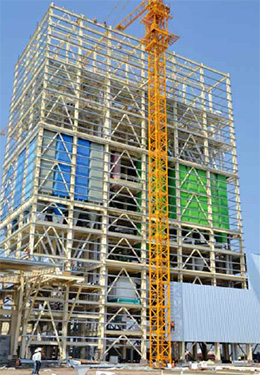 Zamil Steel constructed the manufacturing plant for CP India in Maharashtra.
For Zamil Steel, ensuring the initial surface treatment to buildings is important as it assures a lasting effect. "If you look at our standardised offerings, we have got galvanised purlins. One more innovation is that it is no longer a fabrication only out of plates. We are marrying the plate fabrication with sectional fabrication," says Datta.
Traditionally, a main challenge for putting together a PEB structure was the height of the building. This barrier was broken not only in industrial applications but also retail. Zamil Steel India has also broken through the 50m barrier. "We recently constructed a building with a height of 54m. Here the challenge is not fabrication because that is limited by the despatch able lengths. The challenge is in erection. We are seeing vertical as a trend in industrial as our customers in this space are going vertical," says Roy.
Meanwhile, it is busy with putting in place some Kaizen principles and Sig Sigma that will enable it to improve efficiencies further. The company also has some KPIs for every employee that encourages them to work better. It has also received certification for ISO 14001 and OHSAS. While ISO 14001 focuses on managing your organization's impact on the external environment, to reduce pollution and comply with regulations, OHSAS 18001 focuses on managing internal environment to ensure a safe and healthy workplace.